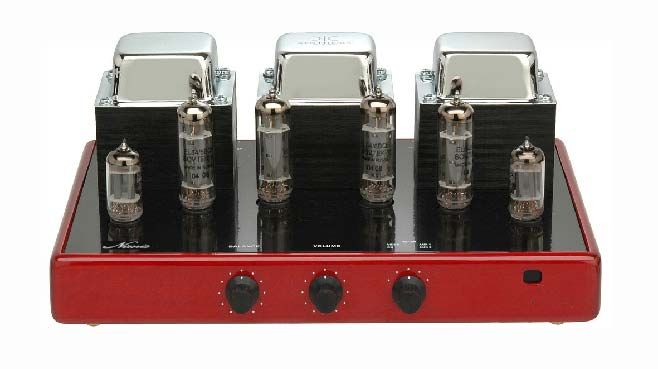 The world wide famous products with a unique design that gives the products that exclusive classic Synthesis look.
Essentially the same design as the Nimis, but with volume control by remote using a balanced motorized volume control that does not degrade the sonic qualities of the unit. Particular attention has been dedicated to build a output transformers using a selected hi-grade iron for to reduce loss and obtain a low distortion factor and band wide frequency response.
This tube integrated combining the highest performance with the cost and quality benefits made possible by our state-of-the-art production facilities.
The Nimis has a rated output of 15 watts per channel into 6Ω.
Technical specifications:
Power stage (1ch): 2 x 6BQ5-EL84
Driver (1ch): ½ 12AX7-ECC83
Input stage (1ch): ½ 12AX7-ECC83
Power output: 15W RMS/6 ohm
Frequency response: 20Hz to 20KHz +-1dB
Signal/Noise ratio: >90dB, A weighted
Controls:
Front: Input switch selector, volume, balance, IR receiver, Led.
Rear: On-Off switch, male power sck, RCA gold plated connectors, binding posts, protection fuse.
Inputs: 4 Input line level, Cd player, Tuner, Video, AUX.
Outputs: Tape out
Power consumption: 110W Max
Finish: Ecologically sensitive lacquer
Dimensions: (w,d,h) 320x220x120mm
Weight: 10.0 Kg
REMOTE CONTROL:
Transmitt: RC5 Infrared code
Function: Mute, Volume
Battery: 2 x 1,5V AAA
Power consumption: 20mW Max
Finish: Grey
Dimensions: (w,d,h) 45x160x25 mm
Weight: 150 gr. (Battery included)