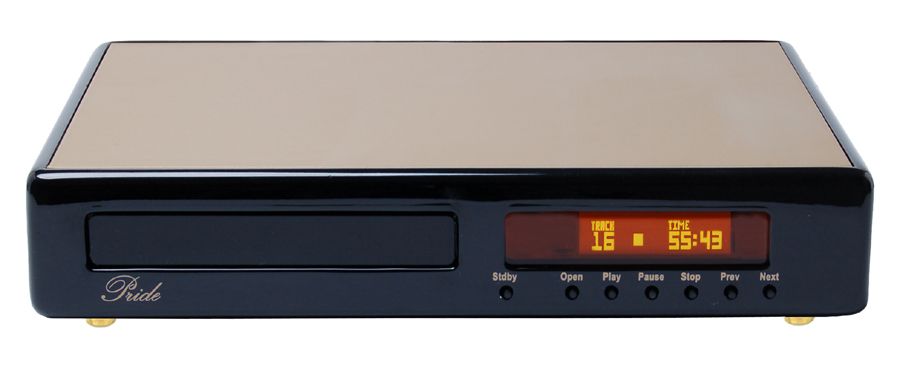 We searched to produce a product that aesthetically has the unmistakable style of the traditional, and yet encloses in its core many innovative and at the same time revolutionary technical solutions.
From the offset Synthesis' Research and Development ensured the PRIDE SE compact disc player would trace the shapes that marks all the products of the series, thus allowing it to be inserted into your system with Synthesis's customary refined approach to visual presentation.
The performance of the Pride SE is exceptional. Its new design achieves excellent playability & disc acceptance. The mechanism is very smooth and discrete and the disc access time has been reduced. The user interface can be fully controlled from the remote control handset or the front panel keypad. The latest 24bit/192kHz DAC from Wolfson, together with a precision fully balanced analogue output stage , sets the basis for a detailed, delicate and dynamic sound.
Essentially the same design as the Pride, but with a selected components the Pride SE delivers high-end sound performance.
Technical specifications
Distortion: < 0,1%
Signal/Noise ratio: >95dB A weighted
Frequency response: 20Hz to 20KHz 0dB
Output level: 2.0V
Digital conversion: 24 Bit 192KHz
Controls
Front: Stby, open, play, pause, stop, next, prev. Display, IR receiver.
Rear: On-Off switch, male power sck, protection fuses, RCA gold plated connectors outputs Left and Right, RCA gold plated digital output.
Power consumption: 25W Max
Finish: Ecologically sensitive lacquer
Dimensions: (w,d,h) 320x220x60mm
Weight: 5.0 Kg
REMOTE CONTROL
Transmitt: RC5 Infrared code
Function: Mute, Volume
Battery: 2 x 1,5V AAA
Power consumption: 20mW Max
Finish: Plastic grey/black
Dimensions: (w,d,h) 45x160x25 mm
Weight: 150 gr. (Battery included)