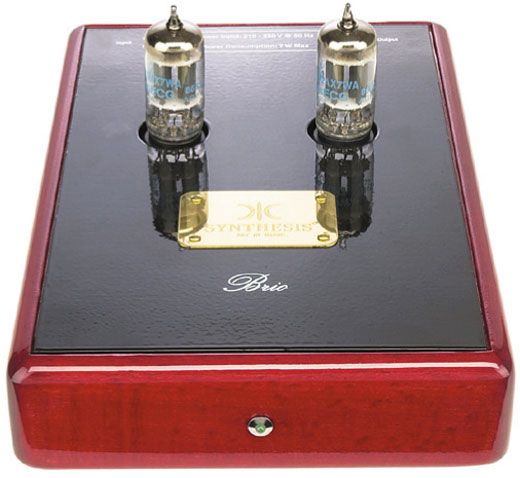 Brio phono stage is caters for both MM and mid-high level MC cartridges with high output impedance.
Separate power supply (included) reduce the interferecies from a power line.
All of our units are designed in order to be able to reproduce music in normal domestic atmospheres, rather than only in an acoustically perfect room.
Great care has been given to the aesthetic factor.
Beautiful real woods and matched finishes make these units a perfect partner with the other fine products of Synthesis.
With such a choice this allows with both great elegance and refinement these systems to integrate seamlessly into any home environment.
TECHNICAL SPECIFICATIONS
Amplifier section:
Input stage: ½ 12AX7-ECC83
Output stage: ½ 12AX7-ECC83
Input impedance: 47 Kohm
Input sensitivity: 1 mV
Max output level: 10V RMS
Gain: 40dB
RIAA accuracy: 20Hz to 20KHz +-0,5dB
Frequency response: 20Hz to 20KHz -0,5dB
Phase: Non Inverted
Signal/Noise ratio: >80dB, A weighted
Controls
Front: Led
Rear: Power button, male power sck, RCA input gold plated connectors, RCA output gold plated connectors,
ground connector.
Finish: Ecologically sensitive lacquer
Dimensions: (w,d,h) 145x220x100mm
Weight: 1.5 Kg
Power supply section
Power consumption: 15W Max
Controls
Rear: Power plug, protection fuse.
Finish: White plastic
Dimensions: (w,d,h) 80x120x60mm
Weight: 0.9 Kg