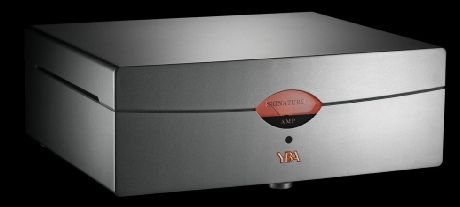 The build quality of this power amplifier is exceptional, featuring two solid pieces of aluminium casing. The appearance is refreshingly understated with no control buttons to be seen and an oval level indicator taking us to times past.
Capable of 600 W into 8 Ohms in bridged mode, this amp is certainly not lacking power! Featuring XLR inputs in both stereo and mono together with an RCA stereo input, the amplifier has 2 sets of outputs per channel.
Whilst Signature is not inexpensive, for the money, especially when paired with the Signature pre-amp and CD player, you would be hard pressed to find more something musically satisfying.
Power Output: Stereo 200W/8Ω Stereo 400W/4Ω Mono 600W/8Ω
Inputs: 1 x XLR stereo 1 x RCA stereo input 1 x XLR mono
Audio Outputs: 2 pairs speaker outputs
SNR: >95 dB
Frequency response: 20 Hz - 20 kHz (-0.5 dB)
THD+N (20 Hz - 20 kHz): <0.1%
Power supply: Linear power supply with high performance Ul -core transformer 1000VA
Remote: Full function
Dimension: 430mm x 390mm x 170mm (w x d x h)
Weight: 42.5 kg
The Signature amplification production is such that many of the electronic components require hand assembly. With parts originating in France, the expertise and sensitivity required in the production of Signature is of paramount importance. It is therefore constantly and carefully monitored through the entire production processes.