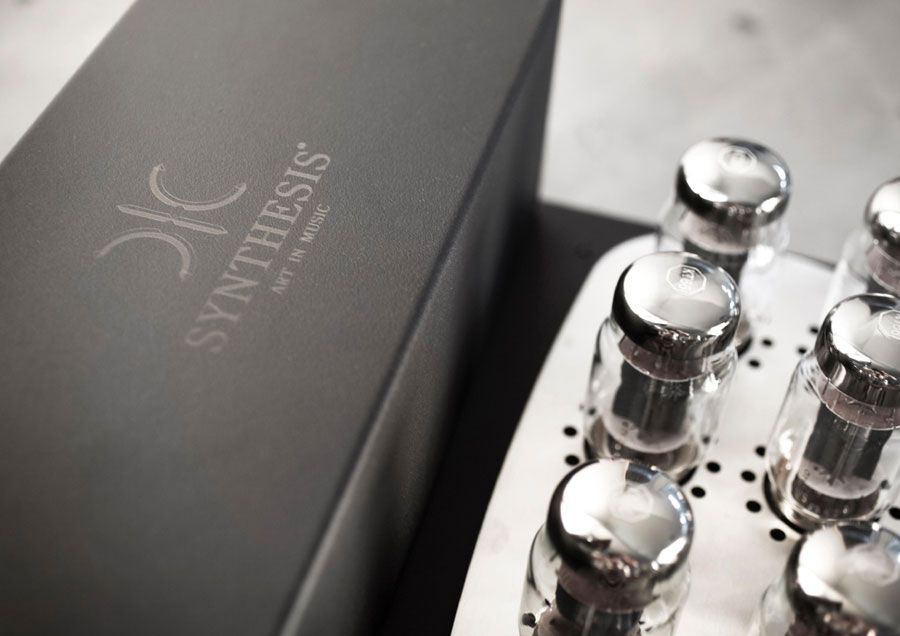 New model of stereo tube amplifiers with DAC's on board, guaranteeing exceptional sonic performance from any digital source. Made with the finest materials & advanced technology, this series is a sophisticated blend of research & experience. Designed without compromise far a rich sound & faithful music reproduction.
The A100T provides a minimum of 100 Watts per channel, power output from 8, of KT66's in Ultra-Linear (UL) - push/pull operation.
The A100T features a newly designed custom output transformer resulting in a rich sound stage but with an authority that belies its 100Wpc.

Technical specifications
Power stage (1 ch.): 4 X KT66
Input stage/driver (1 ch.): ECC83/12AX7driver (1 ch.): ECC99/12bh7
Frequency response: 20Hz to 20KHz +- 0.5dB
Input impedance: 50Kohm
Input sensitivity: 200mV / 100W
Output impedance: 4-8 ohm
Power stage config.: Parallel Push-Pull Ultralinear 43% tap
Power output: 100W RMS into 6 ohm each channel AB1 Class
Signal/Noise ratio: >90dB, A weighted
Inputs: 5 Line (CDP,DVD,RADIO,SAT,USB,DGT)
Outputs: Pre Output (Volume controlled)
Finish: Steel
Power consumption: 450W
Dimensions: (w,d,h) 420x450x260mm
Weight: 40.0 Kg
Digital Stage
Compatible format: PCM Stereo 32-192KHz
Input: USB (PC-Mac) S/PDIF
Up sampling: 192KHz / 24Bit
D/A converter: Dual Mono 2xWolfson WM8740
Output Stage: NJM2114L Op-Amp
Analogue output: 1V RMS
Signal/Noise ratio: >90dB, A weighted
FEATURES
- USB & S/PDIF input
For the first time we include an onboard 24Bit 192KHz Wolfson DAC for a extraordinary listening experience.
-DC Powered tube heater
Ali tubes, except KT66, have DC stabilized heater circuits to reduce hum noise to a near in-audible minimum.
- Output transformer
The Output transformer uses a Hi-Grade iron-Silicon for superb frequency reproduction & width. With this newly designed custom output transformer unique to the A100T we are able to achieving a highly delicate & precise sound reproduction faithful to the original recording.
- Mechanical chassis construction
The power supply & output transformers are held by an extremely rigid "H" structure that keeps the unit free from unwanted vibrations which further helps reduce unwanted noise to the tubes.
- Remote control
Featuring a superb CNC machined case it has a soft button design, perfectly matching the aesthetics for the "ACTION" series.
- Feet
Four CNC machined aluminum feet with an insert of natural rubber. The depth & form of these rubber feet has been calculated to minimize vibrations of the amplifier in isolation from its surroundings.
- Binding posts
Gold plated professional binding posts for a continued oxidization free connection further improve sound refinement.
- Sockets
Gold plated ceramic sockets for a continued oxidization free connection further improve sound refinement.
- Components
Components for the A50T have been selected with great care throughout. Only the best available components are considered & all must undergo an exhaustive analysis of their sonic influence prior to final selection.