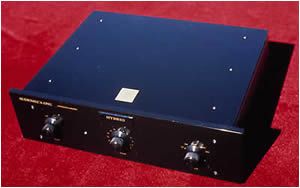 "Control by rotative volume pot and rotative 5 positions selectors. All inputs through gold plated normalized RCA connectors. Gold plated binding posts on the output.
Triode tube working in pure class A for the preamp stage. High gradepolypropifene condensers as separation. True double alimentation: Two high quality power transformers. One for tube preamp stage and one for power stage.
The Hybrid technology reputedly offers the best of both worlds. The tube stage ensures sound delicacy and timbre respect while the transistor output stage provides fuil power and dynamics.

Technical Information
- Double alimentation
- Two power transformers
- Tube: Triode ECC880/6922
Dimensions: 430mm L x 312mm D x 130mm H
Weight: 7 Kg
Appearence: Black polished metacrylate and black steel highly rigid and massive cabinet.
Power output: 30W RMS per channel into 8 Ohm
Damping factor at 1 OOHz: Better than 100
Bandwidth: 10Hz - 500KHz - 1,5dB at full power
Total Harmonic distorsion THD: 0,01%
Signal/Noise ratio: Better than 100 dB
Power consumption: 120W
Input sensitivity: 200mV CD/DAT/Tune/Video/Tape
Tape output voltage: 200mV