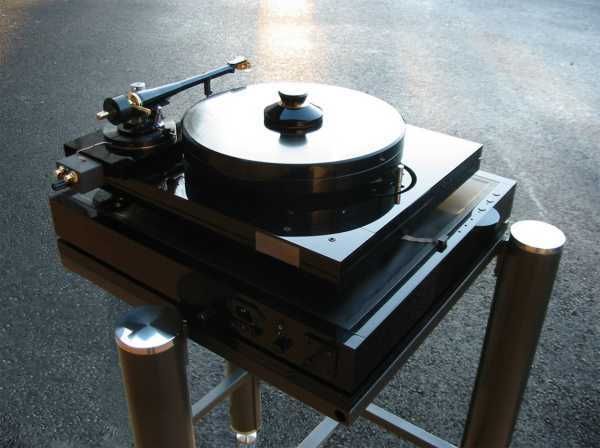 Belladona turntable
Stunning with main parts in polished black acrylic with gold detailing.
Multilayer, high mass, platter and sub-chassis designed to control "Sound Propagation". No ringing material.
Platter weight: 10 kgs - inertia 2 tons
Total weight: 54 kgs
Dimension: 500 x 460 x 200 mm
Easy set up.
Levelling adjustable from above.
Designed around the Pure Mass Concept - Platter Point of Rotation on the Centre of Gravity. Platter and subchassis C of G articulated on one central spike. Maximum static and dynamic balancing.
Inverted bearing
Sand-filled Ground Zero plinth
Separate and adjustable motor block controls belt tension.
Flywheel enhanced motor assembly.
Electronically controlled motor power supply.
Ground Base-stand (optional)
3 pods design
Dimension: 680 x 550 x 850 mm
Height adjustable granit shelves
Shelf dimension: 500 x 460 x 35 mm
Recommended shelf number: 2 to 3
Sand filled shelves
Possibility to sand fill pods and frames
Septum pick up arm
Stunning in polished gold and black
Effective length 230 mm, effective mass 14grms
Designed around the Pure Mass Concept, pivot to stylus axis on small axis of ellipsoid of inertia. Maximum static and dynamic balancing.
Constant tracking force even on warped records.
K.I.S.S. principle throughout
Lowest parts count of any high-end pick up arm.
Unipivot construction
Single-piece headshell and armtube, machined from drawn, solid aluminium bar.
Tapered armtube for optimal stiffness and vibration control-internally damped.
Hard-coupled counterweight, no "decoupling" losses.
Fully adjustable damping.
Azimuth adjustment.
Micrometrc on-the-fly arm-height optimisation.
Removable arm height adjuster, anti-skating device, arm lift and arm rest.
Litz internal wiring, separate and shielded connection box.