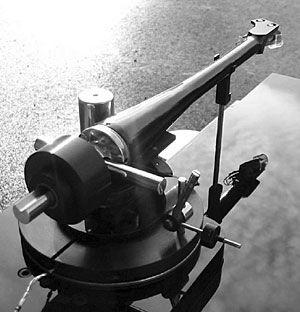 In theoretical terms the ideal Analogue Pick-up Arm, Turntable and Cartridge are all supposed to de perfectly neutral. In contrast to a musical instrument they are not allowed to "make music" by themselves, but rather they must track the record with no addition or omission, n personal signature. Once the artistic event has been performed and recorded its integrity must be respected. This is the task of the Audio designer.
Neutrality stands on the narrow line between pleasant low colorations and overdamping. Neutrality is the very first quality of a complete player which acts as The Source for the whole audio system. To achieve real dynamic range, transient response, deep bass, image, clarity, credibility, emotion or any other musical characteristic requires an absolutely neutrral reference.
Both Mathematics and Philodophy demonstrate that neutrality is satisfied by a PURE MASS. In Physics the Pure Mass concept is defined by a particular case of general balancing of a given body, (Mass Distribution and Ellipsoid of Inertia).
Technical specifications:
Stunning in polished gold and black
Effective length 230 mm, effective mass 14grms
Designed around the Pure Mass Concept, pivot to stylus axis on small axis of ellipsoid of inertia. Maximum static and dynamic balancing.
Constant tracking force even on warped records.
K.I.S.S. principle throughout
Lowest parts count of any high-end pick up arm.
Unipivot construction
Single-piece headshell and armtube, machined from drawn, solid aluminium bar.
Tapered armtube for optimal stiffness and vibration control-internally damped.
Hard-coupled counterweight, no "decoupling" losses.
Fully adjustable damping.
Azimuth adjustment.
Micrometrc on-the-fly arm-height optimisation.
Removable arm height adjuster, anti-skating device, arm lift and arm rest.
Litz internal wiring, separate and shielded connection box.