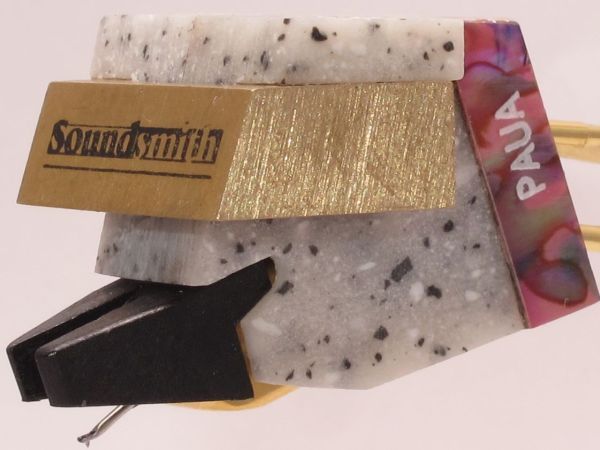 The laws of physics dictate how moving systems operate, therefore cartridges must strictly adhere to first principles to get sublime results. In accord with these laws, the Sussurro has an incredibly low effective moving mass, resulting in vastly improved damping.
The lowered inertia means less stored energy in the moving system, so that primary resonances that normally occur all but vanish.
This moving iron design allows the required stationary magnetic parts to be rigidly held in exact position at all times. The fully shielded annealed case allows totally hum free operation, RF shielding, and extreme mechanical stability.
MC Preamp compatible
Ultra low effective moving mass resulting in superlative transient and micro detail performance
Telescoping Aluminum Alloy Cantilever / Selected nude Contact Line diamond stylus
Composite body featuring impedance matched energy transmission system
For the first time it is possible to enjoy the virtues of our low effective moving mass architecture with the finest step ups and phono preamps for truly amazing vinyl replay.
Peter Ledermann
Nautilus
This is Soundsmith's new medium output design. All other technical specifications are identical to the PAUA.
Technical specifications
Stylus: Contact Line Nude, 0.100mm SQ
Radius of curvature: Nude Contact Line SELECTED
Cantilever: Telescoping Aluminum Alloy
Recommended Tracking force: 1.7 to 1.9 Grams
Effective tip mass: 0.30 mg
Compliance: 10µm/mN (low compliance)
Frequency response: 20-20,000 Hz ± 1.0 dB
Channel Separation (stereo only): 1000 Hz >34 dB 50-15,000 >25 dB
Channel difference: <0.5 dB (Stereo) <1.0 dB (Mono)
Output: @5 cm/sec 0.3 mV
Cartridge weight: 10.25 Grams
Loading PAUA: >= 470 Ω
Loading NAUTILUS: >= 1,5 kΩ