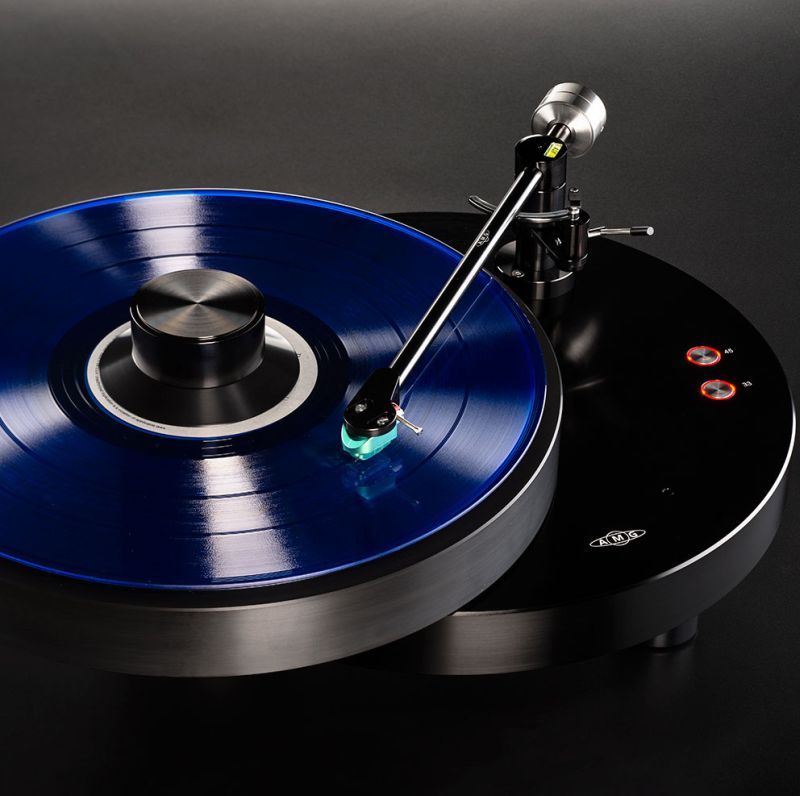 The new Giro turntable brings AMG's sonic and visual excellence to a larger audience. Conceived by AMG founder Werner Roeschlau, the Giro is brilliantly realized by managing director Julian Lorenzi. Sharing the key design elements of the highly regarded AMG Viella turntable/12J2 tonearm "V12", the Giro uses the newer 9W2 9" tonearm. As with the V12, the "G9" is entirely manufactured in AMG's Bavarian factory. S.M.A.R.T.E.S.T. Manufacturing
Both platter and bearing housing are CNC machined from POM, a high tech synthetic, with a special "Slow Machining Accuracy Regulated Technique Extra Sharp Tool" manufacturing process for greater precision, cost-effectiveness, and high finish quality.
The Giro's circular plinth is machined from aircraft-grade aluminum and provides both 33 and 45 RPM via electronic control. It shares the high-mass stainless steel machined pulley of the V12, coupled to a precision Swiss-made DC motor. The belt-driven platter features the single piece construction and decoupled spindle design of the Viella turntable. The platter bearing, a hydrodynamically lubricated radial 16mm axle with PFTE thrust pad and integral flywheel, is a scaled version from the Viella. The Giro uses the 9W2 9" tonearm with the identical, revolutionary bearing design of the 12J2, scaled for the arm length and the Giro's smaller footprint.
The Giro from Analog Manufaktur Germany is an elegant high performance turntable providing exceptional music reproduction and value for vinyl enthusiasts.