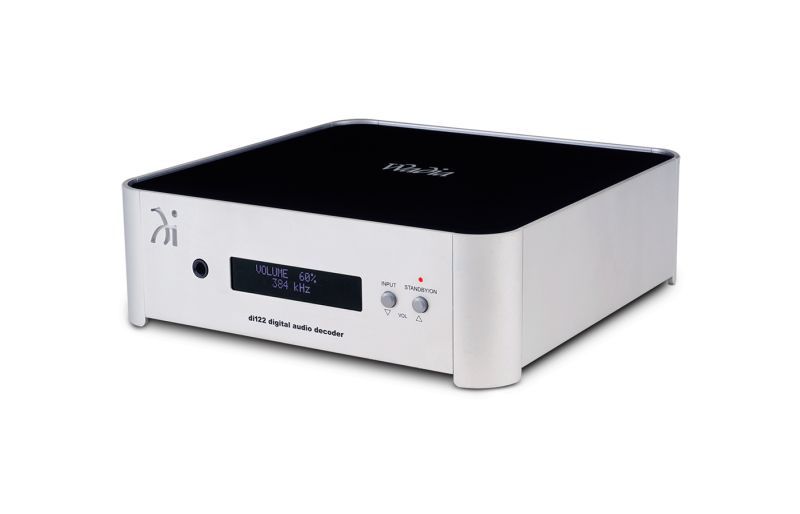 The Wadia di122 two-channel digital audio decoder integrates Wadia's superior technical performance with our new Series 1 mini industrial design. Its sleek, modern aesthetic is compact in size to fit in virtually any location while complementing any surrounding. Combine it with the a102 amplifier for a complete system solution.
It has two coaxial and two optical inputs that accept up to 24-bit/192kHz signals; a USB input accepts up to 32-bit signals and supports DSD64, DSD128, DXD 352.8kHz and DXD 384kHz. This vast array of inputs and supported formats allows music from an abundance of digital sources to be reproduced with the extreme precision and elegance expected from Wadia.
The truly exceptional sound quality is facilitated by both balanced and unbalanced variable analog audio outputs, offering premium noise rejection for optimal performance. The Wadia di122 also features a high powered headphone output, making it versatile choice for any listening experience.

Technical specifications
Frequency Response: +/-0.5dB from 20Hz to 20,000Hz
Total Harmonic Distortion: 0.005%
Variable Output Level:
0 - 4.0Vrms Unbalanced
0- 8.0Vrms Balanced
Signal To Noise Ratio (A-Weighted): 105dB
Dynamic Range: 98dB
Output Impedance: Less than 100 ohms (Unbalanced and Balanced)
Digital Input Signal Format:
Coaxial and Optical Inputs - SPDIF (PCM)
USB Input - PCM, DSD
Digital Input Sample Rate:
Coaxial and Optical: 44.1kHz to 192kHz, 24-Bit
USB: 44.1kHz to 384kHz, 32-Bit (PCM), DSD64, DSD128, DXD352.8kHz, DXD384kHz
Digital inputs:
Coaxial 1 and 2: 0.5V p-p/75 ohms
Optical 1 and 2: - 15dbm to -21dbm (TOS Link)
USB: USB Type B Connector
Trigger Input: 5-15VDC, less than 1mA
Trigger Output: 12VDC, 25mA maximum total
Power Requirements:
100-240 Volts, 50/60Hz at 10 Watts
Standby: Less than 0.5 watt
Note: Only use the AC/DC Power Adapter supplied with the Wadia di122
Overall Dimensions:
Width is 10 inches (25.4cm)
Height is 3-5/32 inches (8cm) including feet
Depth is 14 inches (35.6cm) including cables
Weight: 7 pounds (3.2 kg)