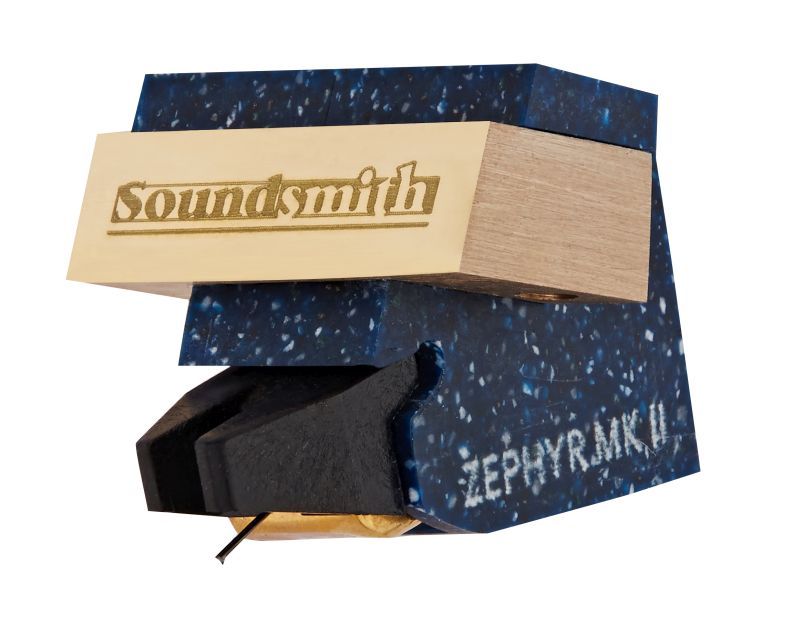 The Soundsmith Zephyr MK II phono cartridge employs " Trickle Down" Technology from a unique Energy Distribution System within the cartridge body as used in the Soundsmith's well received high end Sussuro Cartridge. The Zephyr MKII is built using a selected "low mass contact line diamond" stylus design, mounted on a Boron cantilever - capable of truly remarkable separation, sound stage and imaging. The composite body and unique energy distribution system contributes to the Zephyr MKII's ability to produce high-end performance from a moderately priced cartridge.
Technical specifications
Stylus: Selected Contact Line low massNude Stylus.
Radius of curvature: 6 x 17 μm
Cantilever: Boron
Recommended Tracking force: 1.8 to 2.2 Grams
Effective tip mass: 0.32 mg
Compliance: 10 μm/mN (low compliance)
Frequency response: 15- 45.000Hz +/- 2.0 dB
Channel separation (stereo only):
1000 Hz>28 dB
50 - 15.000>25 dB
Channel difference:
<1.0 dB (Stereo)
<0.5 dB (Dual Mono operation - w/optimal VTF setting)
Output voltage: 2.4 mV
Cartridge weight: 10.27 Grams
Loading: >= 47 kΩ