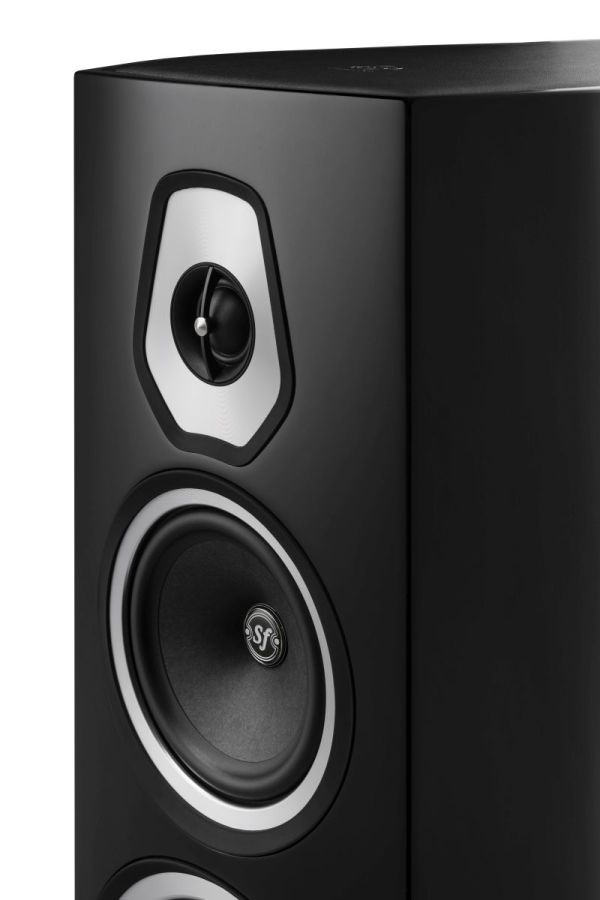 FEATURES
A 3-way floorstanding speaker able to characterize
even the largest rooms, with a rich and lively sound.
LEATHER TOP
The Sonus faber Sonetto collection's floorstanding and bookshelf models inherit from the Olympica line the leather top, hand-sewn, soft to the touch and embellished by the hot branded Sonus faber logo.
THE VOICE OF SONUS FABER
The combination of a silk dome tweeter with the DAD™ (Damped Apex Dome™) technology and a midrange with a special natural fiber and a paper blend air dried diaphragm, defines our iconic "Voice of Sonus faber". This configuration that characterized the entire Sonus faber catalogue, from the Reference to the Olympica collection, is available for the first time in this price range.
MIDRANGE AND WOOFER
These speakers have been designed from scratch specifically for this collection and they feature the die cast basket, done completely in Sonus faber laboratories.
LUTE SHAPE
The lute shape that characterizes most of the Sonus faber models, offers a solution that ensures no internal parallel surfaces and a perfect control over internal resonances.
WOOFER
For an optimal lowest frequencies reproduction, a special aluminum alloy diaphragm has been designed. It allows an ultra-fast, tight and yet deep bass performance.
REFLEX PORT
The Sonetto collection's reflex ports are all sited on the base of the speakers, except for the center channels, to keep the design as clean as possible and at the same time make in-room placement very forgiving.
STRUCTURAL RIGIDITY
Consistent with the most prestigious Sonus faber models, aluminum has been chosen for the column feet, extruded or milled from solid billets, to provide an extreme rigidity.
TECHNICAL SPECIFICATIONS
SYSTEM
3-way floorstanding loudspeaker system. Vented box design.
LOUDSPEAKERS
Tw: High Definition DAD™ driver. DKM dome diaphragm, Ø 29mm
Md: Custom diaphragm made with cellulose pulp and other natural fibers, Ø 150mm
W: Ultra-free compression basket, aluminum cone for maximum speed. Ø 2x180mm cone drivers.
CROSS-OVER
235Hz - 3.000Hz

FREQUENCY RESPONSE
38 Hz – 25.000 Hz
SENSITIVITY
90 dB SPL (2.83 V/1m)
NOMINAL IMPENDANCE
4 ohm
SUGGESTED AMPLIFIER POWER OUTPUT
50W – 300W, without clipping
LONG-TERM MAX INPUT VOLTAGE (IEC 268-5)
22 V rms

DIMENSIONS (HxWxD)
1072 x 258 x 409 mm
42 x 10 x 16 in
WEIGHT
22,6 Kg ea – net weight
49,8 Ib ea – net weight
AVAILABLE FINISHES:
Wood, White, Black