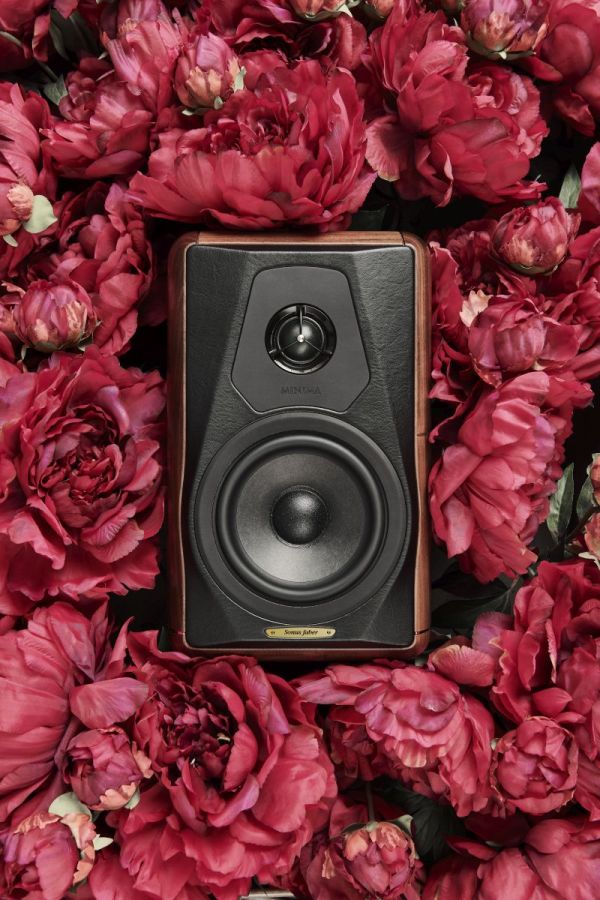 The natural evolution of today's Sonus faber, is enclosed in this new creation. Minima Amator II is the restatement of a fundamental product first introduced in 1992 when the company was establishing key principles that would go on to guide future productions: accurate design and high-quality materials, combined to obtain a sound reproduction as natural as possible.
FEATURES
DESIGN
The compact, solid walnut wood of the cabinet adds to the speaker's sound quality, resulting to a harmonious, smooth and consistent listening experience. The cabinet is embellished by a thin brass insert at the base, reminiscent of the elegant Electa Amator III design.
OPTIONAL STAND
The Minima Amator II was intended to be a bookshelf speaker but is designed to be paired with the Carrara Stand (natural completion of Electa Amator III) or with the Unicum stand.
TWEETER
A 28 mm silk dome tweeter, implemented with the DAD - Damped Apex DomeTM technology, with the same design solution of Electa Amator III: the tripod, that recalls the peciuliarity of both their predecessors.
LEATHER AND BRASS
The front baffle shows the iconic shape of the Voice of Sonus Faber and is covered in leather. The rear panel, also covered in leather, houses the exit of the reflex duct and is embellished by the the brass binding posts.
MIDWOOFER
A 150 mm midwoofer, develeped in the Vicenza-based laboratory, features the well-known cellulose pulp and natural fibers cone on a die-cast aluminum basket, able to reveal even the smallest details during music reproduction.
TECHNICAL SPECIFICATIONS
SYSTEM: 2-way bookshelf vented loudspeaker system
LOUDSPEAKERS:
Tw: H28 XTR2-04 DAD™ Ø 28 mm (1,1 in)
Mw: MW15 XT-04 Ø 150 mm (6 in)
CROSSOVER: 2.500 Hz
FREQUENCY RESPONSE: 50 Hz – 35.000 Hz
SENSITIVITY: 87 dB SPL
NOMINAL IMPEDANCE: 4 ohm
SUGGESTED AMPLIFIER POWER OUTPUT: 35 – 100 W, without clipping
SPEAKERS DIMENSIONS (HXWXD) & WEIGHT
325 x 200 x 274,5 mm
12,8 x 7,8 x 10,8 in
7,1 Kg ea – net weight
15,7 lb – net weight