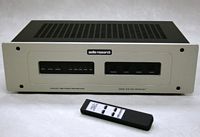 Technical specifications
FREQUENCY RESPONSE
±.25dB of RIAA, 10Hz to 60kHz; 3dB points below 0.7Hz and above 400kHz.
DISTORTION (THD)
Less than .005% at .50V RMS 1kHz output.
NOISE & HUM
0.16µV equivalent input noise, IHF weighted, shorted input (76 dB below 1mV 1kHz input).
GAIN
57.5dB at 1kHz (MC & MM compatible).
INPUT IMPEDANCE
Selectable 47K , 1000, 500, 200, or 100 ohms with 200pF unbalanced.
OUTPUT IMPEDANCE
200 ohms unbalanced. Recommended load 50K-100K ohms and 100pF. (10K ohms minimum and 2000pF maximum.)
OUTPUT POLARITY
Non-inverting
MAXIMUM INPUTS
70 mV RMS at 1kHz (180 mV RMS at 10kHz).
RATED OUTPUTS
50V RMS 10Hz to 60kHz, 100K ohm load (output capability is 50V RMS output at 1/2% THD at 1kHz).
POWER SUPPLIES
Electronically-regulated low and high voltage supplies. Line regulation better than .01%.
TUBE COMPLEMENT
(4) 6922/E88CC dual triodes with JFET input. Solid state power supply.
POWER REQUIREMENTS
100-135VAC 60Hz (200-270VAC 50/60Hz) 50 watts maximum. Line fuse2A SLO BLO (1A SLO BLO 230V).
OTHER
Output polarity: Non-inverting. Push buttons: Power, mute, mono, load. Detachable A.C. power cord
DIMENSIONS
19" (47 cm) W x 5.22" (13.2 cm) H x 10.0" (25.4 cm) D. Rear chassis fittings extend .6" (1.5cm).
WEIGHT
11.3 lbs. (5.1 kg) Net; 19 lbs. (8.6 kg) Shipping.