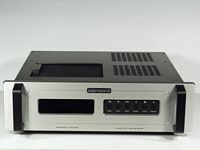 Technical specifications
ANALOG OUTPUTS
1. Balanced XLR 5.4V RMS (+14.6dBv) max. 2. Single-Ended RCA 2.7V RMS (+8.6dBv) max.
OUTPUT IMPEDANCE
(Analog) 660 ohms BAL, 330 ohms SE
FREQUENCY RESPONSE
0.5-20,000Hz +0 -1dB
S/N RATIO
110dBA
DISTORTION
.005% 1kHz
CHANNEL SEPARATION
95dB 1kHz
RESOLUTION
24 BIT DELTA-SIGMA DAC
DIGITAL OUTPUTS
1. XLR Balanced AES/EBU 110-ohm 4V P-P. 2. BNC coax SPDIF 75-ohm 0.7V P-P.
SIGNAL FORMAT
Sampling Frequency: 44.1kHz. Quantization Bit: 16bit linear per channel. Channel bit rate: 4.3218Mb/sec. Channel modulation code: EFM (8-14 modulation). Error correction: CIRC (cross interleave Reed Solomon Code).
DRIVE MECHANISM
Wow & Flutter: Unmeasurable (Quartz stability). Discs: Accepts 5" (12cm) and 3" (8cm) sizes.
OPTICAL PICKUP
Type: 3-beam LDGU (Laser Diode & Grating Unit), with holographic diffraction light pen. Laser: GaAIAs semiconductor, 780nm, 0.5mW maximum output. Servo: Digitally-controlled low-inertia linear positioning actuator.
JITTER REDUCTION
High-stability crystal-controlled re-clocking for all outputs.
TUBE COMPLEMENT
(7) 6H30
POWER REQUIREMENTS
100-135VAC 60Hz (200-270VAC 50/60Hz>, 120 watts maximum. (5 watts maximum when unit is turned off).
OTHER
Detachable power cord.
DIMENSIONS
19" (48cm) W x 5 ¼" (13.4 cm) H x 15 ⅜" (39.0 cm) D. Handles extend 1 ½" (3.8 cm) forward of the front panel. Rear connectors extend ¾" (1.9 cm)
WEIGHT
32.5 lbs. (14.8 kg) Net; 43 lbs. (19.5 kg) Shipping.