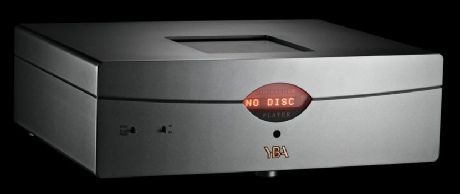 There Is no doubting the fact that the Signature CD Player delivers superior CD performance. This is a top loading player utilising a high end Philips CD-PRO llm with patented Blue Diode® design mechanism and comes complete with a disc clamp.
The player has a a standard RCA output together with a balanced output. It has the additional feature of a digital coaxial output. There are 2 Cirrus Logic CS4398 DACs used in this high quality player.
Operation is so simple, simply open the sliding door and remove the clamp. Place the CD on the platter and replace the clamp. By sliding the door forward approximately 2 centimetres, the start mechanism is engaged and the disc begins to play. You can close the door completely whilst playing. When you want to remove a disc, or change to a new one, always always press STOP before sliding the door.
All relevant information is displayed on the front panel display and with its two discretely positioned control buttons on the left side of the front panel, it retains the attractive uncluttered lines of the Signature range of products.
System: High end Philips CD PRO IIm with patented Blue Diode® system
Drive compatibility: CD CD-R CD-RW
Audio outputs: 1 RCA plus 1 XLR analog 1 Coaxial digital
Unbalanced output level: 2.3V
Balanced output level: 4.6V
SNR (RCA): 115 dB
SNR (XLR): 120 dB
Frequency response: 20 Hz - 20 kHz (-0.5 dB)
THS+N (20 Hz - 20 kHz): 0.0015%
Power supply: Linear power supply with high performance Ul-core transformer 190 VA
Capacitors: 94,000uF analog power capacitors
Remote: Full function
Dimension w x d x h: 430mm x 370mm x 151mm
Weight: 30.5kg