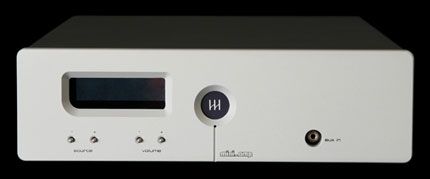 The mini_amp is the latest creation of Monrio in the entry-level amplifier category bringing enhanced performance and usability as well as circuit topology and sound quality of the highly regarded Asty. The most noticeable change is the addition of a convenient iPod/MP3 player input on its front panel. Within its simple but elegant chassis numerous design upgrades elevate its musical performance to even greater heights. All the signal circuitry is fully discrete. The output stage is a quasi-complementary topology, direct coupled bi-polar and uses high-current audio power transistors. The passive line stage provides lower sensitivity on line inputs.
A generous toroidal transformer with plenty of reservoir gives shared supply to the two channels. The power-supplies used in the mini_amp have been engineered to give close to optimal performance with fast recovery cycles.
The mini_amp forms a complete audio system with its partner MJ Player/CD Player. Together they provide the perfect and most cost-effective introduction to Monrio audio system. There's a long Monrio tradition of the entry-level Integrated Amplifier punching above its weight. It began with the original MC202 in 1991 and continues now with the mini_amp. Although the recent introduction of the MJ Amp represents the true novelty for integrated designs, the mini_amp remains a good and cost-effective introduction to the Monrio sound for those who don't require the MJ Amp Class "D" Integrated Amplifier with its advanced features and capabilities.
The mini_amp delivers 60 Watts into 8 ohms loudspeaker loads. It is musical, powerful and fast. Particularly impressive is the subjective "speed" and "grip", giving a fine impression of coherence and integration with excellent dynamics.
Versatility is vital for an entry level amplifier. In addition to the four high-level inputs and tape loop, the mini_amp is provided with an "AUX IN" input on the front panel that allows an easy to connect iPod/MP3 player.
Careful attention has been given to the Power Supply Design. No one area of amplifier design is as commonly misunderstood as that of the power-supplies. Even the simplest of power-supplies comprising transformer, rectifier and reservoir capacitors need to have the parameters of these three components optimally balanced for a given application. The fashionable belief that bigger and better reservoir capacitors improve the quality of bass reproduction is misleading and with some amplifier designs it is quite easy to demonstrate that increasing the size of the reservoir capacitors can make the bass worse.
The power-supplies used in the mini_amp have been engineered to give close to optimal performance with fast recovery cycles.
The mini_amp construction and aesthetic borrow directly from the fantastic MJ Series. Front panel is machined from solid aluminium, hand polished, silver-anodized and all casework is metal, which together result in a rigid case that offers great immunity to the effects of external vibration.
The more you listen to music through the mini_amp, the more you like it.
TECHNICAL SPECIFICATIONS
Output: 60 watts per channel/8 ohms
Frequency response: 10-20kHz/ -1dB
Input impedance: 10k ohms
Input sensitivity: 330 mV/max output power
Mains voltage: 110/115 – 220/240 VAC
Mains frequency: 50 or 60 Hz
Inputs/Outputs:
Four high-level inputs
1 Tape output
1 iPod/MP3 input
2 Five-way gold plated binding posts
1 IEC AC mains connector
Dimensions: 280mm(w)x80mm(h)x365mm(d)
Weight: 8.0 Kg