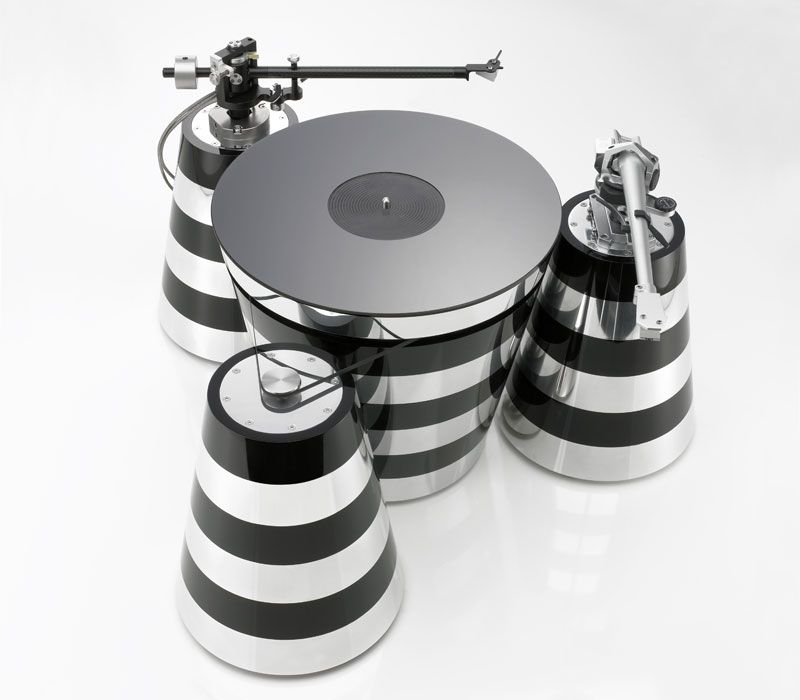 Spectacular and extravagant, in a breathtaking, unheard of design, the lusso is built upon alternate layers of aluminium and black acrylic, including the topsy-turvy cone for the aluminium platter fitted with an acrylic plattermat! The lusso is driven by a newly developed, extremely precise high-end synchronous motor suspended within one of the cones. The cones, not connected to each other, embrace height-adjustable feet that serve for perfect set-up. Even the carbon tonearm, mounted on a cone, demonstrates high style.
Sonically, the lusso carries you into a perfect world of sound: Between precise, crystal-line highs and weighty bass is a generous, softly melting midrange that helps produce an ideal, musically balanced turntable.
Finish: Lusso doppio
Chassis: Acrylic and Stainless steel
Platter: Specially damped aluminium platter shaped out of one piece, weight 5 kg
Mat: Acrylic
Feet: Stainlees Steel spikes with metric fine pitch thread and inserted ceramic ball
Bearing: Two piece Stainlees steel bearing with very low tolerance, a running Surface out of bearing bronze, one high-precision shaft, a bearing mirror out of sapphire and a ceramic ball
Voltage: 230 V / 115 V
Speed: 33 1/3 + 45rpm (switchable and fine adjustable)
Drive: Flat belt. Specially treated two phase synchronous motor with sliding contact bearings.
Motordrive unit: 2 phase sinus generator in an external case
Motor Synchronsim: 0,03%
Tone Arm Base Quantity: 1
Tone Arm Quantity:1
Available Tone Arms: SME, DaVinci, Triplanar
Optional: Platter weight
Dimension W x H x D: 550 x 450 x 350 mm
Weight: approx. 47 kg