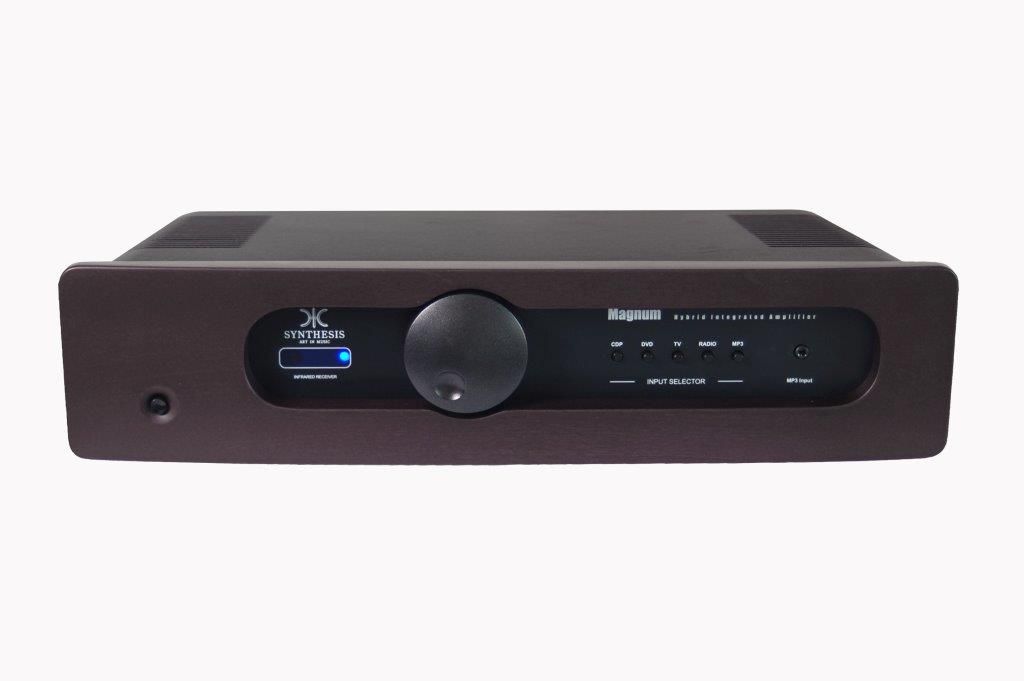 The equilibrium between clean sound and the elegant design has created an alchemy from which this object of great desire has been produced.
We searched to produce a product that aesthetically has the unmistakable style of the traditional, and yet encloses in its core many innovative and at the same time revolutionary technical solutions.
From the oset Synthesis' Research and Development ensured the MAGNUS compact disc player and MAGNUM 100 integrated amp would trace the shapes that marks all the products of the series, thus allowing it to be inserted into your system with Synthesis's customary re€ned approach to visual presentation.
The sound superiority €nds expression in all of our products and is the result of our long acoustic search aimed to continually improve of all the characteristics Hi-Fi.
Technical specifications:
Power stage: Selected LF3886TF
Hi-Performance Audio Power Amplifier
Input stage: Selected ECC88/6922
twin triode
Filament supply: DC voltage for noise reduction.
Power transf.: 250VA toroidal shielded
low noise transformer
Inputs: Cd player, DVD, TV, Radio,
MP3 (front panel)
Outputs: Rec out, Pre out (volume controlled)
Power output: 100W RMS/4 ohm
Signal/Noise: >90dB, A weighted
Input impedance: 50Kohm
Frequency response: 20Hz to 20KHz +- 0.5dB
Controls:
Front: On-Off switch, infrared receiver,
led Indicator, input selector,
volume knob, MP3 Input.
Rear: Male power sck, RCA gold plated
connectors, binding posts.
Power consumption: 300W Max
Dimensions: 440x350x120mm (w,d,h)
Weight: 9.0 Kg
Remote control:
Transmitt: RC5 Infrared code
Function: Mute, Volume
Battery: 2 x 1,5V AAA
Power consumption: 20mW Max
Finish: Plastic grey/black
Dimensions: (w,d,h) 45x160x25 mm
Weight: 150 gr. (Battery included)