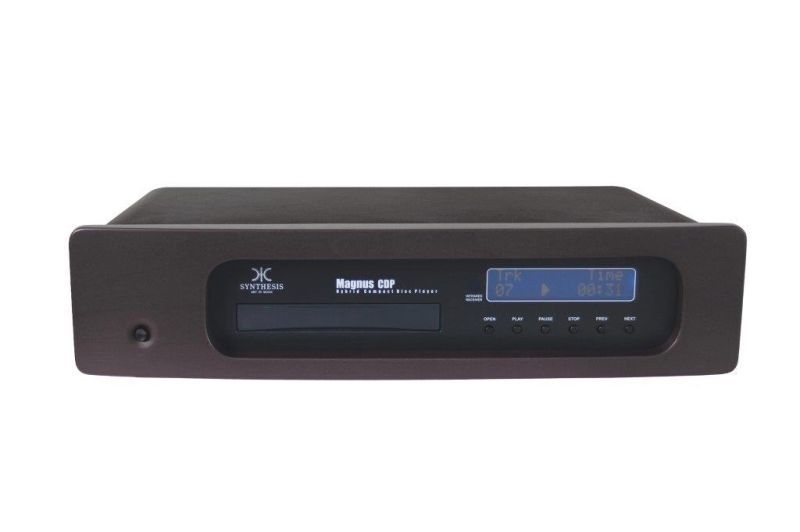 The Verve series combines a product that aesthetically has the unmistakable style of the traditional, and yet encloses in its core many innovative and at the same time revolutionary technical solutions. The latest component technologies and Synthesis's refined and careful engineering design approach to produce an incredibly natural sound from any music source. All that experience is brought to bear in the Magnus along with the very latest DAC technologies and hundreds of hours of critical listening. The Magnus CDP and Magnum 100 integrated amplifier are the perfect choice for people looking for a cdp/amplifier offering exceptional music reproduction as part of an affordable system.
The sound superiority finds expression in all of our products and is the result of our long acoustic search aimed to continually improve of all the characteristics Hi-Fi.
Technical specifications:
Audio S/N ratio: > 90.0 dB
Frequency response: 20Hz - 20KHz 0dB
Audio output level: 1.5V
Tube output: ECC88/6DJ8
D/A conversion: 24 Bit
Frequency: 192 KHz
Mechanis: Quite track CD-DVD Rom transport
Display: 32 character LCD display
Format: CD Audio (CD-DA), CD-R, CD-R/W.
Controls:
Front: On-Off switch, display, infrared receiver.
Front panel keys for: Power switch,open,play,pause, stop, next, prev.
Rear: Fuse, power plug RCA output L and R, Digital output.
Power consumption: 35W Max
Dimensions: 440x350x120mm (w,d,h)
Weight: 6.0 Kg
Remote control:
Transmitt: RC5 Infrared code
Function: Mute, Volume
Battery: 2 x 1,5V AAA
Power consumption: 20mW Max
Finish: Plastic grey/black
Dimensions: (w,d,h) 45x160x25 mm
Weight: 150 gr. (Battery included)