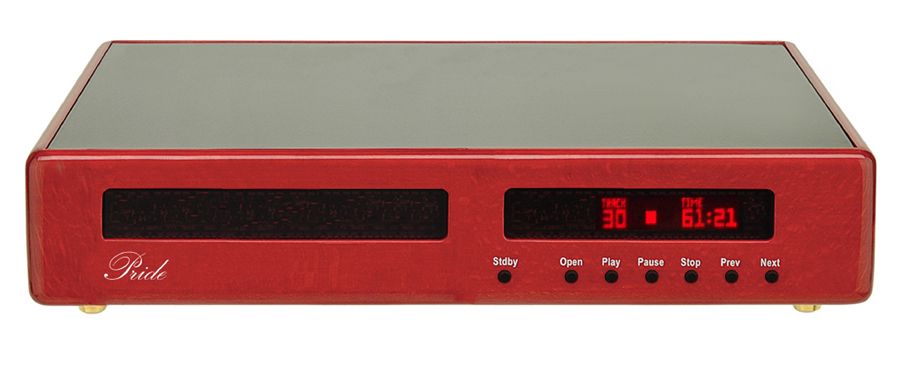 These things of beauty are not arrived at by accident, all of their flowing features
are bound by the one outcome our design.
This unique combination of materials both natural and manmade are brought together not just as a product, but as something to be treasured.
This interpretation of hand crafted design is achieved in a way only the Italians
sense of flair and taste knows how to give.
Our technology is designed to innovate and yet be simplicity to use. Built for the world with a spirit Made in Italy.
Shapes, materials, finishes, technologies, all joined by a constant thought: designs and sounds that enriches your quality of life.
If we can together bring well being by our designs then....... feel good.
The Pride is the entry-level CD-player for "Prime" line. The latest 24bit/192kHz DAC from Wolfson micro, together with a precision fully balanced analogue output stage, sets the basis for a detailed, delicate and dynamic sound.
Technical specifications
Distortion: < 0,1%
Signal/Noise ratio: >95dB A weighted
Frequency response: 20Hz to 20KHz 0dB
Output level: 2.0V
Digital conversion: 24 Bit 192KHz
Controls
Front: Stby, open, play, pause, stop, next, prev. Display, IR receiver.
Rear: On-Off switch, male power sck, protection fuse, RCA gold plated connectors outputs Left and Right, RCA gold plated digital output.
Power consumption: 25W Max
Finish: Ecologically sensitive lacquer
Dimensions: (w,d,h) 320x220x60mm
Weight: 5.0 Kg
REMOTE CONTROL
Transmitt: RC5 Infrared code
Function: Mute, Volume
Battery: 2 x 1,5V AAA
Power consumption: 20mW Max
Finish: Plastic grey/black
Dimensions: (w,d,h) 45x160x25 mm
Weight: 150 gr. (Battery included)