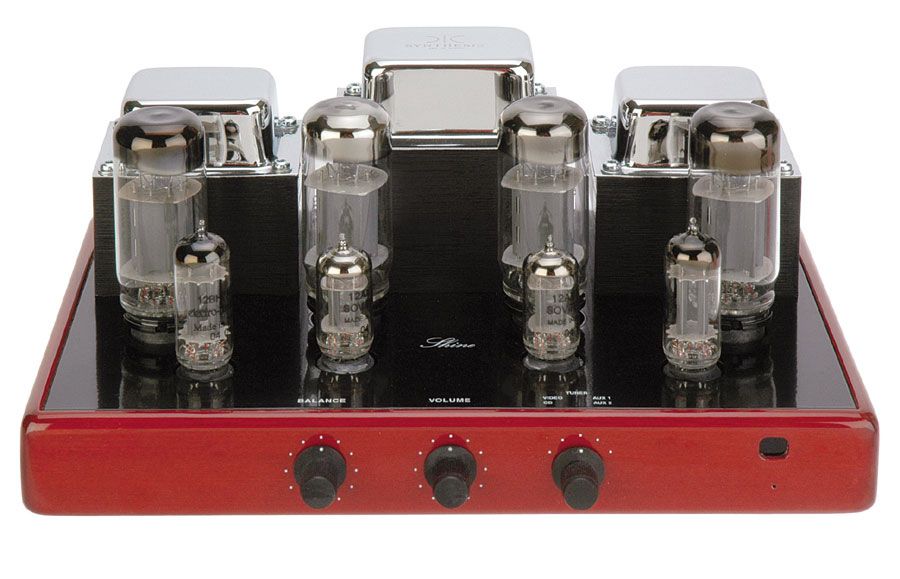 The Shine combines the latest component technologies and Synthesis's refined and careful engineering design approach to produce an incredibly natural sound from any music source.
An ideal partner for the Pride CD player, the Shine is designed to be a powerful and musical amplifier and is constructed with outstanding build quality for its price. The Shine is the perfect choice for people looking for an amplifier offering exceptional music reproduction as part of an affordable system.
The volume control by remote use a balanced motorized volume control that does not degrade the sonic qualities of the unit. Specially-wound power and output transformers deliver the kind of clean juice that makes the amp's 40W sound like 80. The pentode push-pull design is built around 12AX7 on input and 12BH7 as driver tubes and 5881/6L6WGC power tubes that deliver a dynamic presentation.

Technical specifications:
Power stage (1ch): 2 x 5881-6L6WGC
Driver (1ch): 12BH7
Input stage (1ch): 12AX7-ECC83
Configuration: Push-Pull pentode configuration
Power output: 40W RMS/6 ohm AB class
Frequency response: 20Hz to 20KHz +-0.5dB
Signal/Noise ratio: >90dB, A weighted
Controls:
Front: Input switch selector, volume, balance, IR receiver, led.
Rear: On-Off switch, male power sck, RCA gold plated connectors, binding posts, protection fuse.
Inputs: 5 high level inputs, Cd player, Tuner, Video, AUX1, AUX2.
Outputs: Tape out
Power consumption: 310W Max
Finish: Ecologically sensitive lacquer
Dimensions: (w,d,h) 320x220x120mm
Weight: 12.0 Kg
REMOTE CONTROL:
Transmitt: RC5 Infrared code
Function: Mute, Volume
Battery: 2 x 1,5V AAA
Power consumption: 20mW Max
Finish: Plastic grey/black
Dimensions: (w,d,h) 45x160x25 mm
Weight: 150 gr. (Battery included)